Do You Have A Construction Project We Can Help With?
Remodeling your dream kitchen
Over the years, the kitchen has gained popularity as one of the most important rooms in any home. This room sees a lot of use, from the first early morning breakfast to the last late-night snack. In fact, modern homeowners rely on their kitchens as a central gathering place, a spot where they're just as likely to prepare an important family meal as they are to help the kids with their homework. And of course, it needs to look just as beautiful as it is functional.
Because this space gets so much use, there's a lot to consider when you're planning a remodel. This kitchen needs to become a room where everybody will feel comfortable and welcome—whatever you're using it for.
At First Rate Construction, we want your kitchen remodel to be a perfect combination of good looks and effective functionality. We can ensure that the space meets your needs, both in terms of convenience and aesthetics. We will work to accommodate your individual style in taste and materials while offering suggestions to make your kitchen more comfortable and functional. Essentially, we'll help you to get the remodeled kitchen of your dreams!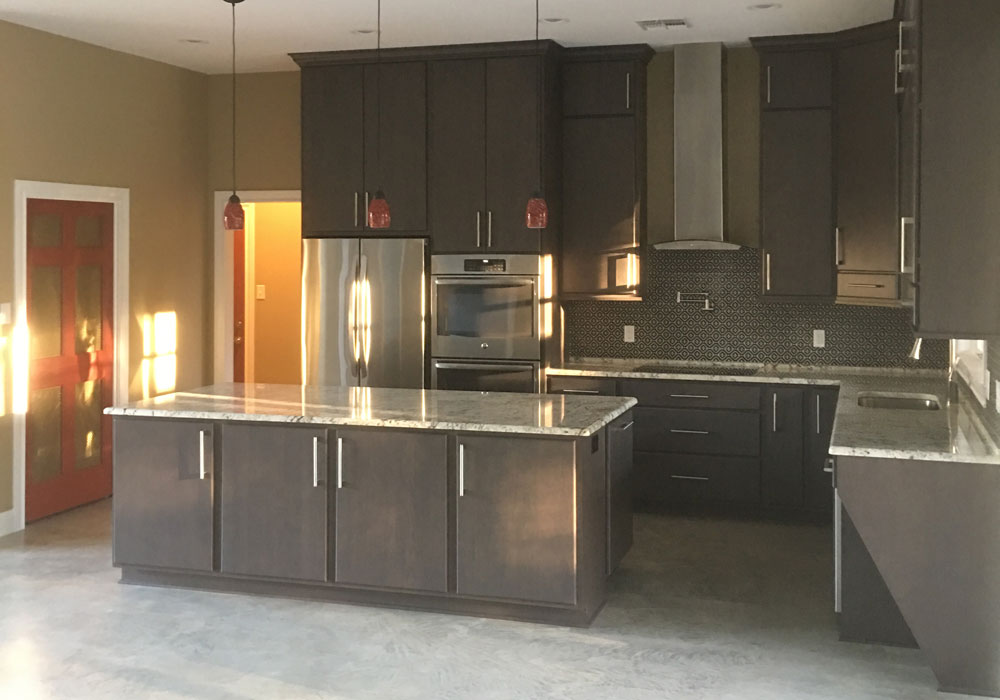 The picture on the top of this page features a more traditional kitchen remodel.  The cabinets, flooring and light fixtures were all updated to bring a more modern style to this space. The backsplash adds to the effect, lending an extra note of interest to the room.
And the picture immediately above this section shows a similar style, with upgraded trim on the cabinets and high-quality granite countertops. An eclectic tile backsplash comes to life against the cabinets, giving this space a highly-contemporary feel.
In the pictures that follow, you will find a few different styles of kitchen remodeling projects. The first one is of a complete kitchen remodel in a rustic style. The cabinets, custom built from knotty alder wood, lend the space its cozy, cabin-like feel.
We replaced all elements in this space, including the walls, flooring ceiling and lighting. We also installed new appliances, including the double oven you see pictured here. You can almost smell a homecooked dinner waiting to greet you here!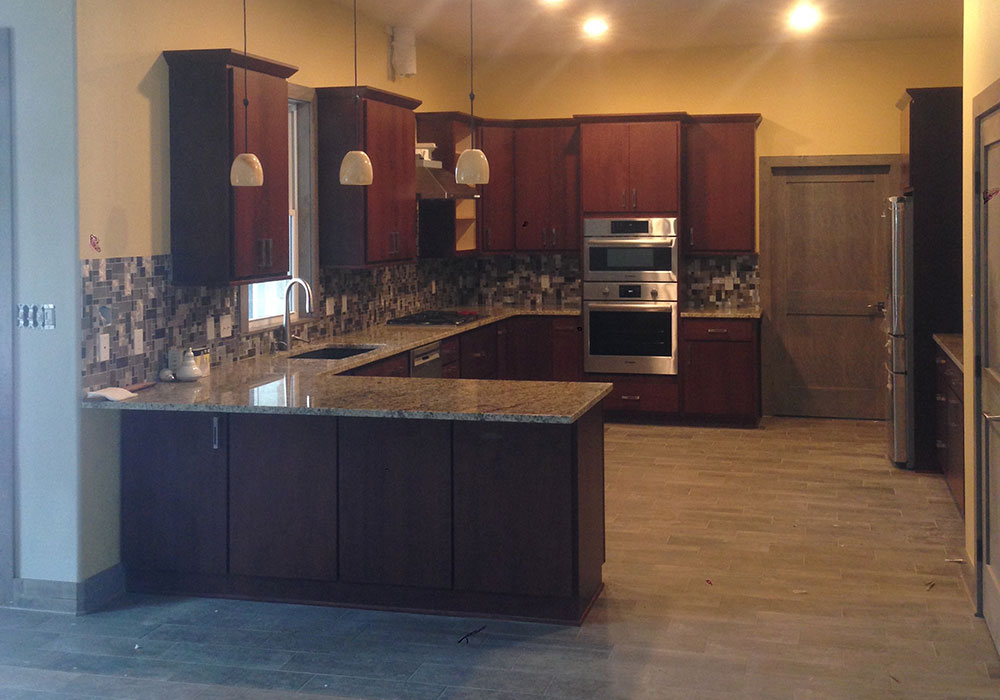 And here we show yet another different style of kitchen remodeling our company has completed for our customers. Here, the custom cabinets steal the show. Custom built from attractive cherry, they make a lovely foil for the ceramic flooring and soft tile backsplash. The whole effect is quaint and welcoming, a nod to another era.
Like what you see? It could be yours! Contact First Rate Construction today so that we can schedule an appointment to help make your Kitchen Remodeling dreams come true.
"Right from the beginning, we were shown a timeline of the work schedule which was adhered to as much as possible. I also appreciated the expertise and suggestions of what is available in cabinet design and function, faucet, lighting, materials for countertop and backsplash. I also appreciated the fact that my needs/wants in a kitchen were listened to and incorporated."
Frank & Maria G
Connect with First Rate Construction
We love to talk to those who are interested in what we do.
Give us a call or use the form below and we will reach out to you.